PRESS RELEASES
<< Back
Chimerix to Present at Credit Suisse 29th Annual Healthcare Conference
DURHAM, N.C., Nov. 05, 2020 (GLOBE NEWSWIRE) -- Chimerix (NASDAQ:CMRX), a biopharmaceutical company focused on accelerating the development of medicines to treat cancer and other serious diseases, today announced that Mike Sherman, Chief Executive Officer, will present a corporate overview and program update at the Credit Suisse 29th Annual Healthcare Conference on Thursday, November 12, 2020 at 4:15 p.m. ET.

A live audio webcast of the presentation will be available on the Investor Relations section of Chimerix's website at ir.chimerix.com, where it will be archived for approximately 90 days.
About Chimerix
Chimerix is a development-stage biopharmaceutical company dedicated to accelerating the advancement of innovative medicines that make a meaningful impact in the lives of patients living with cancer and other serious diseases. Its two clinical-stage development programs are dociparstat sodium (DSTAT) and brincidofovir (BCV).
DSTAT is a potential first-in-class glycosaminoglycan compound derived from porcine heparin that, compared to commercially available forms of heparin, may be dosed at higher levels without associated bleeding-related complications. DSTAT is being studied in a Phase 2/3 trial to assess safety and efficacy in adults with acute lung injury with underlying COVID-19. A Phase 3 trial protocol to study DSTAT in acute myeloid leukemia has been developed in alignment with the US Food and Drug Administration (FDA) and site activation is expected in early 2021. BCV is an antiviral drug candidate in development as a medical countermeasure for smallpox and is currently under review for regulatory approval in the United States. For further information, please visit the Chimerix website, www.chimerix.com.
CONTACT:
Investor Relations:        
Michelle LaSpaluto
919 972-7115
ir@chimerix.com

Will O'Connor
Stern Investor Relations
212-362-1200
will@sternir.com

Media:
David Schull
Russo Partners
858-717-2310
David.Schull@russopartnersllc.com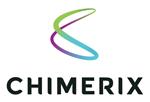 Source: Chimerix, Inc.